I was totally hyped up to watch Vol. 5 of RWBY, and now , it's here ! ! !  So much has  happened before Vol. 5 , so I won't even try to summarize  each Volume. Google the summaries for each volume or better yet, bingewatch on YouTube, or Netflix.  I know purist anime fans thumb their noses at this "monstrosity" that is RWBY , a wanna-be American -made anime…….for me, this  is a lost opportunity to enjoy  an exceptionally good story and plotline , not to mention superb, well-detailed, and fast   fight  scenes, and more importantly (  for me , at least ) the  absence  of   highly sexualized  female characters and offensive fanservice . This is pure adventure /fantasy sans anime tropes and clichés.
So okay, the first and second volumes'  graphics are not impressive.  It is after all Rooster Teeth's  first foray into " anime " .  But there are definitely marked improvements in  subsequent volumes,  and in fact,  the backround scenery of  the city of  Mistral in Vol. 5  is  gorgeous.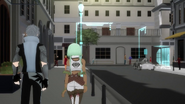 Above is the city of Vale , location of Beacon Academy ,in Vol.1……. kind of minimalist,  right ?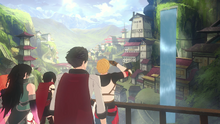 Above is the city of Mistral from Vol. 5 . Definitely with lots of details.
Trailer of Volume 5. It does look like the trailer gives away  Vol.5's plotline.
To date,  we are  officially  on  the 3rd episode of Vol.5  ( although  I've already watched 4 and 5  )  .  On Vol. 1 to 3, we see the destruction of Beacon Academy  (  RWBY's  school….  the death of its headmaster, Prof. Ozpin, and a major character,  Pyrrha  )  . Volume 4  deals with  survivors'  journey  to  Mistral,  specifically  to another academy,  aptly called  Haven Academy.  They've arrived in the kingdom of Mistral  where they plan to seek refuge , but will soon discover Haven is not safe anymore.
On Episode 1 of  Vol. 5,  we see the " resurrection " of  Prof. Ozpin,  who has now possessed  a willing  surrogate's  physical  body , a 13 year old  farm's  hired help , Oscar Pine (? ),  and , without fanfare,  has immediately let his former students know of his existence.   The mystery here is, who exactly is Prof. Ozpin…… is he an aura, or a wandering spirit  ?  He reveals that he is indeed a spirit and the spirit of all those he has possessed  ,  and he  is, in fact , more than a thousand years old  who  has been cursed with immortality for failing to defeat Salem, the major antagonist  of this series.  Ozpin, aka Oscar  , has to train the surviving students of Beacon Academy  in combat skills ( and Oscar himself ) , pronto, because he knows Haven Academy is next to be attacked by the same evil forces that destroyed Beacon Academy.
Why is it imperative to protect the academies ?  These academies  train  students to become Hunters/Huntresses. Hunters are needed to protect humanity from Grimms. Grimms  are creatures of destruction. Their sole purpose for being is to destroy humans. The  Students that are accepted to train  are those that have  already unlocked their aura and Semblances ,  the only power that can be used to fight  the evil forces that threaten the existence of humans. Combat skills are equally needed to fight the evil forces, hence,  the academy.
I rate RWBY  a high 9 /10 despite its flaws.  You can watch it on Rooster Teeth on its You Tube Channel, or on Netflix (  Vol.1 & 2 ) in movie format.
Thank  you for reading.