My last entry was only  2 sentences long because  I was feeling a bit  of a Debbie Downer.  But thanks to your advices,  I think I can go on for a few more months, maybe years, who knows .
Anyways,  I've been wanting to write about Persona 4, the anime,  and about Persona 3 , the video game…. there's  just no way I can write a piece on one without the other.
So, what are Persona 4, the anime, and Persona 3 the anime and video game all about ?
Both P3 and P4, the video games, are made by  Shin Megami Tensei. ( Atlus ).  Both have characters played by " special " high school students, by special  meaning, they can summon their Personas  which they can use in battles against the " Shadows". They are the only ones that can see the Shadows, and in P3 's case, they  are not transformed into coffins  during the so called " Dark Hour".  The Dark Hour is a secret hour where all the nasty stuff happens, and these special students are the only ones who know  its existence.  ( 12 midnight )
Photos above are my video games of Persona 2, 3, 3FES, and P4. ( I have both P3 and P3FES…. P3FES has an additional  30 hour game that P3 doesn't have.)
And photos below are the same stuff that I couldn't  delete, darn it…..
" ponders "
I'd like to apologize  for stopping  at this point.  I don't think I can  discuss  both  animes/video games  on one post. It is impossible. First off, I have not played Persona 4  yet, even though I've had the game on the very first day it was released. ( 2010 ? ) To be honest,  I was completely overwhelmed by  P3FES…. erase that….. I was traumatized by my obsession with P3FES, and  now refuse to relive the experience  by playing another Persona game. (  I hate you , Atlus ! ) However, I had watched  P4, the anime. It's weird that Netflix  has only 2 episodes of Persona 3 animation.
At this moment, I don't know what to do with this situation. Shall I …. 1. Discuss  P3 video game  alone 2. Write about P4 the anime 4. Compare both. ( which I cannot do because , as I said, I have not played P4. ) Or  do I really need to play P4 before  discussing it?  And , do I even have the time to play the game, or for that matter, any game  at this point in my life ?  I have dozens of games that I haven't played  yet ( about 200 in our collection ), just gathering dust in the shelf,  and soon, I will be buying  new releases of Ratchet and Clank and God of War and , horror of horrors,  Persona 5 !  Yes, they're coming !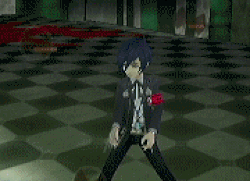 That one above is how the characters of Persona 3  summon their personas. They put a gun to their heads ( it's not a real gun ) and shoot.
It's supposed to be a  120 – hour game… I played it for over 1,000 hours, or maybe 2000 hours, who knows.  This is the reason why I always turn catatonic  every  time I think of this game.
By the way, it's 2007's Game of the Year, with ratings not lower than 9 out of 10.
And the music !   !   To me, it's still the best.
More of the music on my next post.  You need to listen to the music. They are all outstanding.
Alright, this is all for now.  I know… I just blabbered , blah, blah, incoherently. I'll do better next time.